Whether you're surfing, on the beach with friends, or with little ones, Powder Pouch will brush off sand to keep you comfortable.
The Powder Pouch was created by a fifth-generation beach family who love the sand, but didn't want to bring it home!
Free drawstring carrying case
Cotton pouch is washable and refillable
Comes pre-filled with a starter supply of zea mays (corn) starch
Helps keep sand out of vehicles and upholstery
Directions: Pat the powder filled pouch a few times to release the powder. Gently rub against the dry sandy areas of your skin. Sand easily falls away leaving you feeling smooth and comfortable. Fold and store in drawstring carrying case.
Product Care: When cotton applicator is empty, machine washable. Tumble dry low. Refill with your favorite powder. Use damp cloth to wipe clean carrying case.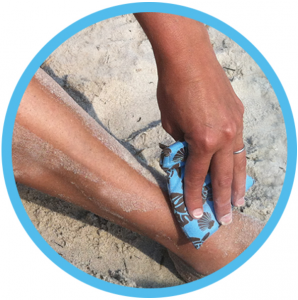 Not Just for the Beach! Powder Pouch is also great for:
SANDBOXES
Powder Pouch keeps the sand out of your house.
CAMPING
Great way to freshen up after a challenging hike!
SPORTS
Whatever sport you play Powder Pouch keeps you smooth and comfortable.
TRAVELING
The easy way to freshen up wherever your destination may be.
AT THE GYM
Not always time for a shower. Powder Pouch will make you comfortable after a good workout.
CONSTRUCTION DEBRIS
A great way to brush off saw dust, insulation or any other uncomfortable particles while getting the job done!
EXERCISING
Keeping you comfortable while staying in shape.
MINIMIZING THE MESS
Bottled powder makes a mess! With Powder Pouch you only use what you need.